Jul 11, 2023
Father-Daughter $260M Massachusetts Firm, The Harvest Group, Partners with Allworth Financial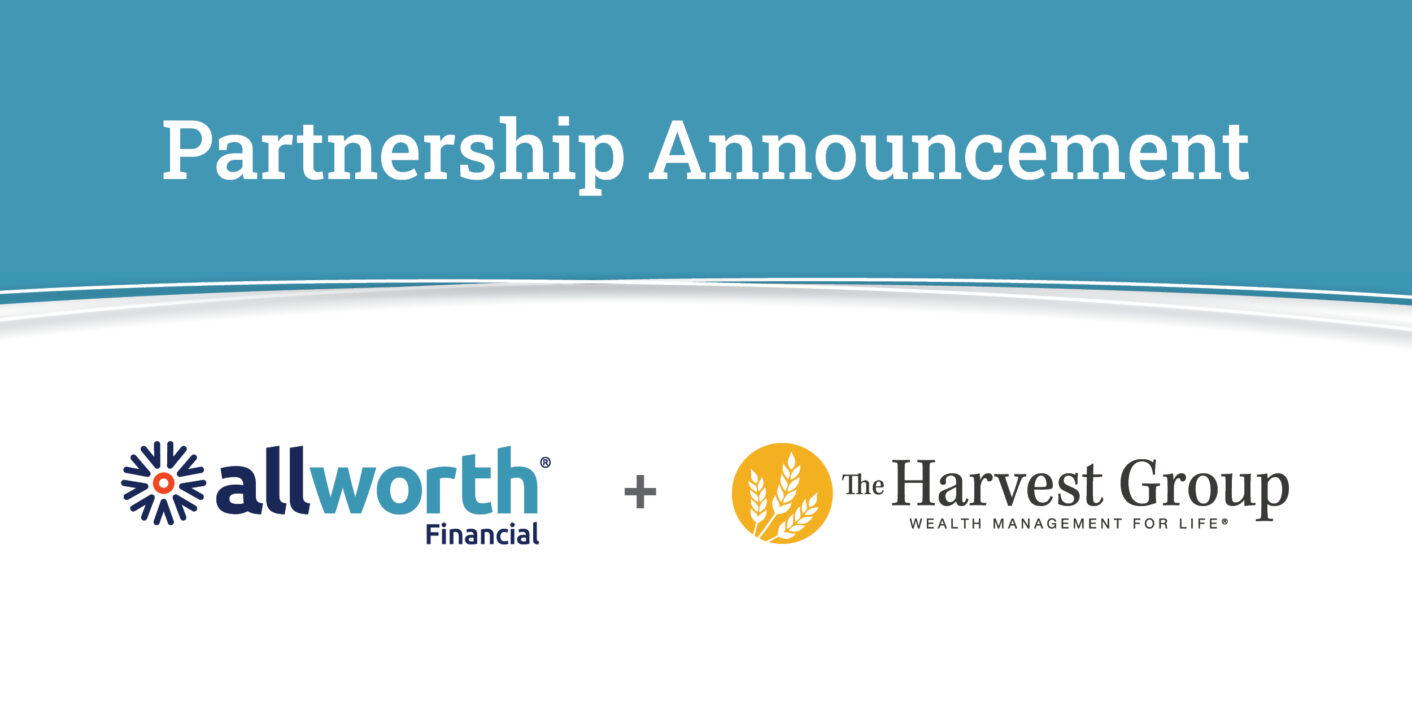 With its fifth acquisition of 2023, fast-growing Allworth Financial expands Northeast presence while also adding its sixth female equity partner in last year.
Folsom, California, July 11, 2023 – With the completion of its 29th partnership, award-winning Allworth Financial, the 9th fastest growing RIA in America[1], has announced the purchase of $260M The Harvest Group of Waltham, Massachusetts. Owned by principals Roger Ingwersen, and daughter, Laurie Ingwersen, The Harvest Group brings to six the total number of women who have entered equity business partnerships with Allworth in just the last year. Financial terms of the agreement were not disclosed.
"If you want to grow, you need to find a partner who can bring more services, marketing expertise, and operational support to your firm," said Roger Ingwersen, founder of The Harvest Group. "As an independent-minded, family-run RIA, after a thorough search, Laurie and I identified Allworth Financial as the best cultural fit to take over the bulk of time consuming operational and marketing responsibilities so we will be able to get back to doing what we do best, which is working full-time in support of our clients."
"The more people that we got to know from Allworth, the more we became convinced they were the right fit for us," said Laurie Ingwersen, managing partner and senior wealth advisor at The Harvest Group. "As a family-run firm, we wanted partners that understood our culture, and right from the beginning, Scott Hanson and Pat McClain, who founded Allworth together and have been leading this award-winning brand for over 30 years, made it clear that advising is much more than merely a business."
"In the next six years, nearly $30T is expected to be controlled by women2. Any firm that is serious about growth should be focused on finding highly qualified and experienced female advisors to connect with that shifting demographic," said Allworth Co-CEO and Co-founder, Pat McClain. "We're excited about this partnership and know that this brings an increasingly fresh addition to our leadership group. We welcome the Harvest family and team to Allworth Financial."
"Successful, owner-operator advisory firms face this decision every day, they've hit an inflection point, invest in technology, marketing and other operational costs or partner with a larger firm that's already made those investments," said Allworth Co-CEO and Co-founder, Scott Hanson. "Roger and Laurie's team are experienced, dedicated to the well-being of the people they serve, and heavily credentialed, so once we got to know them, we knew that we wanted them with Allworth."
---
About Allworth Financial
With its direct and educational approach to advising, award-winning Allworth Financial is a full-service independent financial advisory firm that specializes in retirement planning, investment advising, tax planning & preparation, estate planning, and 401(k) management. Allworth delivers short- and long-term investment and financial planning solutions and guidance to help clients achieve their goals and strategically prepare for retirement.
---
[1] https://www.riachannel.com/top-wealth-managers-growth-in-assets-Allworth-Financial/
[2] Women as the next wave of growth in US wealth management | McKinsey