What We Offer
1
---
Growth Through Education
Radio Show and Podcast Educates Thousands Every Week
For over two decades, we've produced both Money Matters and Simply Money radio shows. These financial-based radio programs welcome callers to answer pressing financial questions on both a daily and weekly basis. Broadcasting in major markets throughout the country, and via podcast nationwide, the popular programs educate consumers, engage clients, and consistently drive new business to the firm.
Live Workshops Create Connections with Future Clients on a Personal Level
In 2019, nearly 10,000 people attend our in-person seminars and workshops all across the country. These topical events are designed to be both educational and informational, and they result in hundreds of appointments that heavily contribute to the steady growth we enjoy each year. Learn more here.
2
---
Digital Expertise for Organic Growth
From digital advertising and search engine marketing, to social media, to the use of targeted videos filmed in our state-of-the-art broadcast studio, Allworth Financial is an investment advisory leader in the digital marketing space. We've identified the key channels and tactics that enable us to reach future clients.
3
---
Freedom For Our Advisors
New Clients Are Brought to Advisors
We're serious about growth. Our education-first approach attracts thousands of potential clients to our offices each year. Our in-house marketing department qualifies each lead before our advisors are asked to meet with them. This ensures we are only meeting with qualified client candidates. Through careful screening, and the managing of all scheduling, we free advisors up from any of the time-consuming business development responsibilities endemic at other firms.
Client Service Support Expands Advisor Capabilities
To ensure they receive the best service possible, our clients are assigned a dedicated team of client-service professionals. Every call is answered by an actual person. Our client service teams handle all advisor-support matters and most paperwork, and manage the scheduling of periodic existing-client phone and in-person reviews. This frees up our advisors to do what they do best.
4
---
Robust Investment Management
Our investment management is fully centralized and turnkey, emphasizing low-cost ETFs and mutual funds. Our systems and processes are fully automated so that advisors aren't spending their time placing trades or dealing with portfolio rebalances. We offer several custodial options, including TD Ameritrade, Schwab, Fidelity, and others.
---
Successful Partner Stories
Video transcript available here.
Unique Partnership Opportunities
Flexible partnership arrangements. Each advisor has their own vision for their future. Whether you want to start your next endeavor or stay engaged and help us grow, we're flexible with how you want to work.

Continuity of staff. Junior advisors and staff are welcome. Your team has been critical to the business you've built. If they want to continue to grow, we'll help them do so.

Your clients' satisfaction. Our clients love us, and yours will too. We have some of the highest client satisfaction rates in the industry and have a dedicated operations team to ensure a smooth client experience.

Freedom. Our business model allows you to do what you do best – work with clients. Our support team allows for you to spend less time doing administrative tasks.
The Culture at Allworth Financial
Advisors have an incredible amount of freedom. When was the last time you took a vacation and didn't check your work email? With our team approach to advising, you can leave work at work.

Key functions are centralized. Marketing, technology, finance, HR, facilities, and compliance are all handled by our internal team of experts.

Opportunities abound in the organization. Some of our partners join our investment committee, while others take on media relations, public speaking, and mentoring other advisors. If you have a desire to stay plugged in and energized, there's plenty of opportunities available. If you want to stick to meeting with clients and building relationships, that's perfectly fine with us too.
---
Partner Council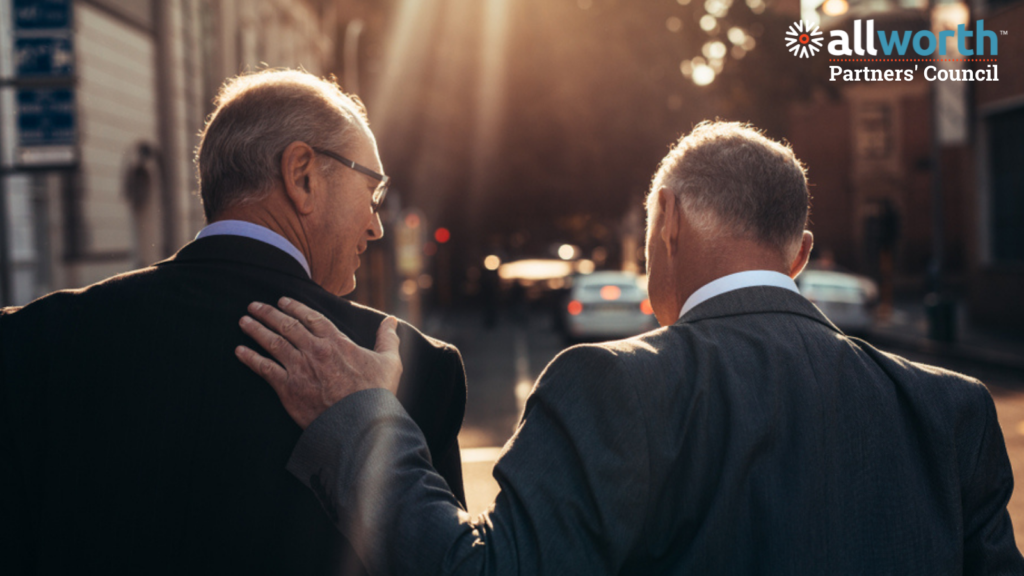 Upon joining Allworth as a partner firm, founding principals gain membership to the Partners' Council, a group dedicated to staying intimately connected with the business, solving complex challenges, and moving the organization forward.
Council Mission:
Provide a forum for our members to provide feedback, thought leadership, entrepreneurial thoughts / suggestions, and inform on local market opportunities and nuances.
Meet at regular intervals for financial reporting/communication and management topics of discussions.
Keep members engaged, excited, informed and focused on growing Allworth.
Work to make members' time with Allworth, the best chapter of their working lives.
Become a Partner
If you're looking for the opportunity to partner with a company that truly places clients at the heart of its business, contact us at 888-489-0015 or partnerships@allworthpartners.com. Additionally, you may visit our Contact Page. We'd love to talk to you about the future.