Feb 1, 2019
Hanson McClain Advisors Announces Agreement to Acquire Hugh B. Phillips Retirement Group

SACRAMENTO, Calif., Feb. 1, 2019 – 26-year old Hanson McClain Advisors ("Hanson McClain") has announced it has acquired HBP Retirement Group ("HBP"). The acquisition continues Hanson McClain's rapid expansion in the San Francisco Bay Area. With the addition of HBP's $235 million in AUM, Hanson McClain now manages over $3.8 billion in assets for families in the Rocky Mountain, Midwest, and West Coast markets.
"We are continually looking for ways to better serve our clients. The added services and technology we will now be able to provide made this an easy decision," said Hugh Phillips. "And Hanson McClain is seeing tremendous success in the Bay Area. My fellow advisor Cheyenne Walker and I wanted to be a part of that winning team."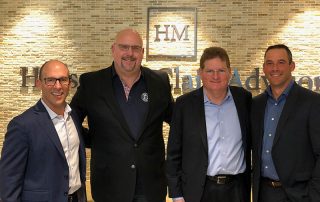 "We have a steady stream of new clients coming to us in the Bay Area and this was a natural fit for us," said Pat McClain, co-founder of Hanson McClain. "HBP is known for providing quality service and exceptional advice to their clients, and they serve an area of the Bay we are interested in placing an even greater focus on."
In the last year, Hanson McClain has acquired a tax and accounting firm and added more than $1 billion in additional client assets as it expands both its offerings and reach in new and existing markets. "We're excited about the last 12 months," said McClain. "We will continue to look for practices that want to partner with us in bringing honest, straightforward financial guidance to the investor community."
About Hanson McClain Advisors
Hanson McClain Advisors (www.HansonMcClain.com) is an independent investment financial advisory firm that specializes in retirement planning, investment advising, and 401(k) management with a direct approach to financial planning. Hanson McClain delivers long- and short-term investment planning solutions and advice to help clients achieve their goals and plan strategically for retirement.
About Hugh B. Phillips Retirement Group
HBP (www.hbpretirement.com) specializes in portfolio and retirement planning for individuals and families in the Bay Area and Napa Valley communities.