Dec 8, 2020
Why a BD-Affiliated Business Owner Would Sell to an RIA – Interview with Bastoni Financial Services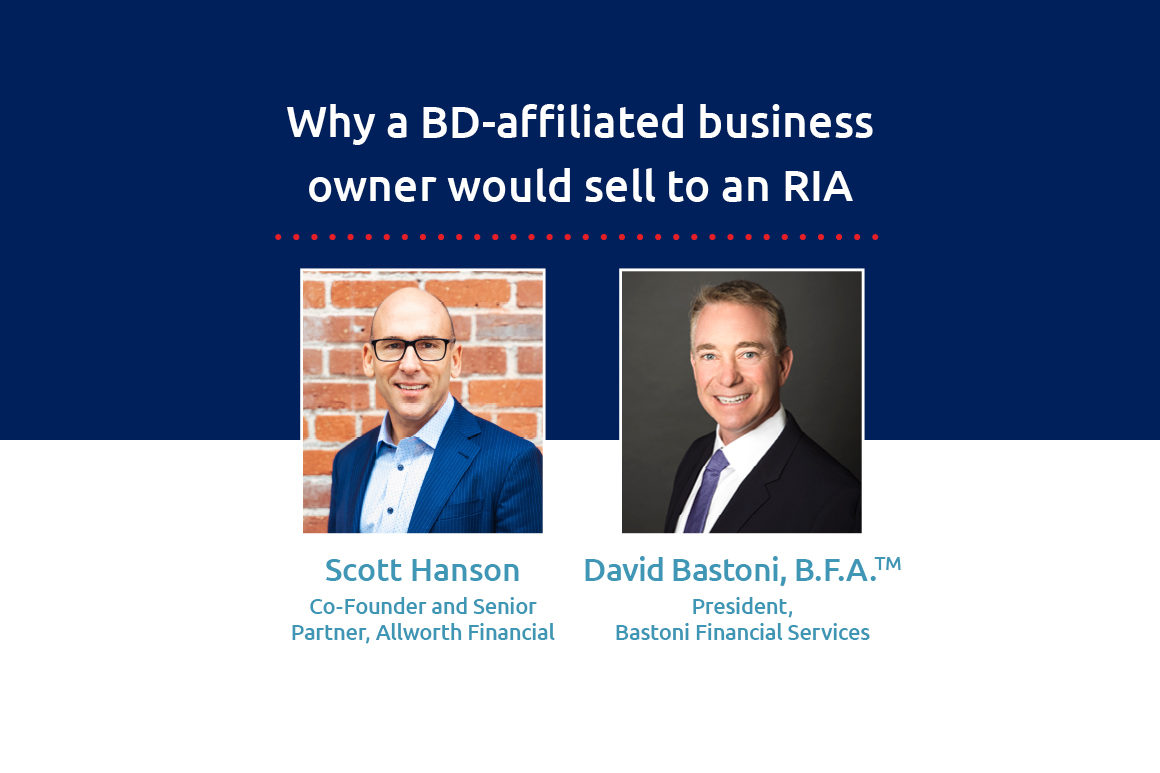 We are currently in the middle of one of the most unique and amazing times in the history of our industry.
How so?
For the last several years IAR business owners, Hybrid RIA owners and RIA owners have been continuing to attract the eyes and ears of investors of all kinds. From private equity, to large banks, to other RIAs and BD firms, opportunistic firms are continually looking to get in on our space.
Why is that?
Due to the growing amount of baby boomer clients and advisors entering retirement, the relatively low client turnover rates, and the fee structures many of us employ, investors are very attracted to our highly stable business model.
Especially in the midst of the COVID-19 crisis, advisory firms have continued to be attractive business models for investors. The result is near-record number of mergers and acquisitions for the year in addition to arguably record-high multiples.
That said, why would a successful independent advisor with his own RIA and an affiliation with a quality major independent broker dealer choose to merge his firm with an RIA 40 times his size?
One reason might be striking while the iron is hot. Others include setting up an eventual succession plan, gaining the benefits of scale, help with growth and gaining equity in a firm that is growing faster and more reliably than his or her own firm. If the end of 2020 is any indication, 2021 could be another record year for M&A activity.
State of the Industry Podcast: "Why a BD affiliated business owner would sell to an RIA – Interview with Dave Bastoni of Bastoni Financial Services"
On this episode of State of the Industry podcast, we welcome:
Scott Hanson: Co-Founder, Allworth Financial (Host)
Dave Bastoni: Founder and Principal of hybrid advisory firm Bastoni Financial Services
Key Takeaways:
Review of M&A trends for 2020 and predictions for M&A in 2021
Why we've seen an increase in multiples for financial advisory firms
Why private equity and other institutional investors are interested in our industry
Why an independent BD advisor with $270M in AUM changed his business model to merge with a $10B RIA
How David Bastoni navigated a critical growth inflection point – investing and building infrastructure or joining a firm with a platform in place
Why many older advisors are making a mistake by setting their firms on cruise control and plan to retire "with their boots on"