Apr 19, 2021
What it Takes to be a Buyer of Firms – Industry Podcast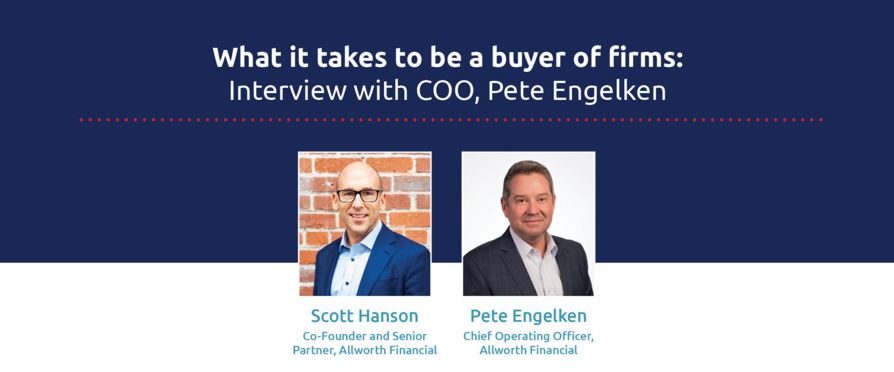 Interview with Allworth Chief Operating Officer, Pete Engelken
Listen on Apple Podcasts here or scroll down to listen on this page.
When the Chief Operating Officer of Allworth Financial, the 4th fastest growing RIA in the country[1], who also just happens to have previously been the President and CEO of Genworth Financial Home Equity Access, Inc., the largest reverse mortgage company in America, speaks about mergers and acquisitions, it just makes good sense to listen.
Having overseen dozens of major business partnerships in the last 20 years, including 12 in just the last 3 years with Allworth, Engelken understands the M&A landscape better than most.
For April's Allworth Financial State of the Industry podcast, host and Allworth Co-CEO Scott Hanson welcomes valuation and acquisitions expert, Pete Engelken, for a lively discussion about the highs, lows, and, most importantly, the granular and too-often overlooked aspects of what RIA, independent broker dealer-affiliated, and hybrid advisory firms need to understand before, during and after partnership negotiations commence.
What it Takes to be a Buyer of Firms: Interview with Allworth COO Pete Engelken
On this episode of SOI podcast, Allworth welcomes:
Key Takeaways:
How firm valuations are calculated, and financing is secured
The different types of legal structures and entities
Why the M&A market has never been stronger
The difference between negative and positive client consent
Aggregating vs. integrating firms
What equity in Allworth could mean
How an investment management agreement differs between RIAs and IBD-affiliated advisors
Due diligence and repapering
And the advantages and disadvantages of partnerships