Dec 18, 2019
Case Study: Growth Opportunities for Employees at Allworth

When principals sell their firms, they aren't the only ones impacted. Job worries, new management styles and unfamiliar advisory models are all legitimate concerns for loyal employees.
But not all transitions are created equal. The right type of transaction can be great for everyone. Here are the unique perspectives of three very different people who have experienced an Allworth acquisition first hand.
---
A Closer Look: Brian James, CFP®
From Simply Money marketing advisor to lead advisor, workshop presenter and business development liaison in two years.
What was your background and what were your primary responsibilities before the acquisition?
I've been in the financial sector for over 20 years, but I came to Cincinnati's Simply Money (now Allworth Financial) looking to re-establish my career as an advisor in an independent environment. We (SMA) had a very strong regional brand and I was on the front lines, meeting prospective clients and emphasizing the benefits of working with a fiduciary firm. When qualified candidates that I thought were a good fit for our company were interested in becoming clients, I would assign them an advisor.
How did the transition impact you personally and professionally?
I'm no longer responsible for any marketing, which is all done by the marketing department. We advisors focus entirely on what we do best, which is educating people and working to improve the financial lives of our clients. Looking back before the acquistion, like many mature advisory firms, our growth had slowed. Once we partnered with Hanson McClain in 2018, together, we updated our names to Allworth Financial—taking what we did well and combining it with what they did well—and the subsequent growth expedited our need for more advisors to keep up with demand. In addition to advising clients, I'm also our main workshop presenter and actively involved in business development.
What is your view of the future at Allworth?
I believe RIAs are the present and future of advising. Both Hanson McClain and Simply Money were early adapters to a more client-first model. Here's an example: A potential client came in the other day and after meeting with me, chose us as his advisor. The reason? I was able to detail the advantages of properly timing his application to Social Security. He'd been the client of a well-known, product driven, national firm until just
a few weeks ago, but when he asked them for some clarity on Social Security, they mailed him a generic brochure. No follow up call, no anything. So, the opportunity to do what I love, the increased personal service, the growth and the opportunity to present to people at workshops, and the fact that we advisors spend our time advising and not marketing the firm, these are just a few of the positives that I've experienced since our transition to Allworth Financial.
---
If you're the principal of an RIA and you're curious about the value of your firm, what a transaction with Allworth could mean to you both professionally and personally, or the types of mergers and acquisitions we're looking for, contact us today.
It never hurts to understand the options that are available to you. We believe in straight talk and are looking for like-minded people who want to build something special. Contact us at (858) 705-3415  or info@AllworthPartners.com.
---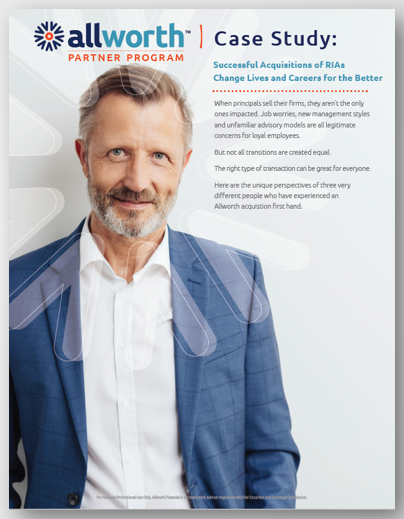 Careers Case Study Download Form